Reico & Partner Vertriebs GmbH
is a family busi ness from the Allgäu region that specialises in the direct marketing of animal nutrition and nutritional supplements for humans and animals.
Founded in 1992 by animal healer Konrad Reiber,the company benefits from over 40 years of experience with the sales of animal feed and over 40 years of experience with the development of dietary supplements. Today, the founder's daughters Manuela Kunz and Petra Reiber have taken the reins of the company.
The purpose of Reico & Partner Vertriebs GmbH is to restore mineral balance to soils, plants, animals and humans with the Reico Vital system and thus create the best possible conditions for life to thrive.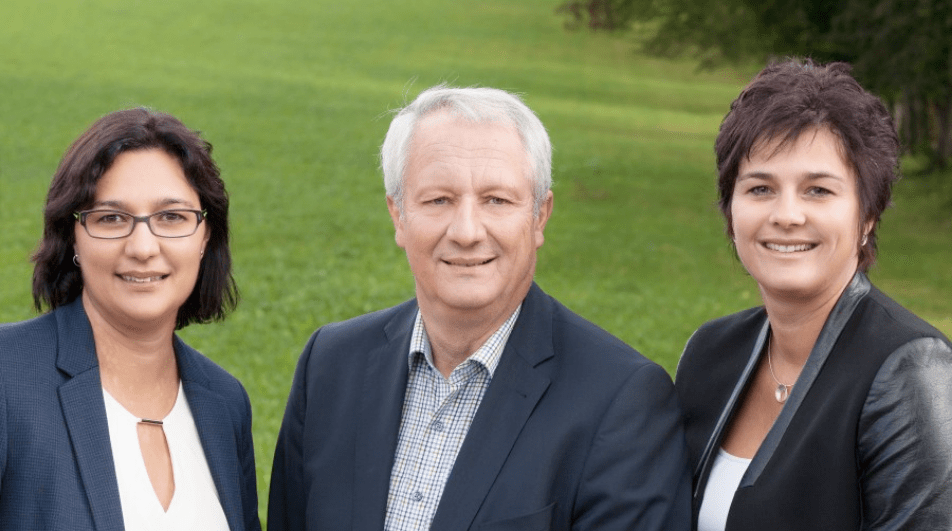 The unique selling proposition
of Reico is the unique algae blend that brings the body into its mineral balance. Another important core competence lies in our unique manufacturing process, in which high-quality herbs are micronised particularly gently, through which the ingredients are fully and effectively maintained.
is geared to the needs of humans, animals, plants, and soil. Through our products, we want to make an active contribution to restore and permanently improve the balance in these systems. We offer, for example, rich, high-quality, and appropriate pet food for animals.
We at Reico are persuaded that personal advice and optimal service take place best on-site with our customers.
Therefore the Reico & Partner Vertriebs GmbH relies on the direct marketing.
Our goal: live in mineral balance
The welfare of our customers and their pets lies close to our heart. Therefore, we have in our unique products the best that nature has to offer, combined to bring the body into its mineral balance. Moreover, we have applied the findings from 40 years of development and practical experience to the fundamentals of the natural cycle of minerals and trace elements when developing our products.
Mineral balance - what is it actually? And what is it good for?
Mineral balance means there is a balance between the activating and regulating minerals in the body. We get these minerals from our diet. Natural enzymes in food will help the body break down unwanted or excess substances present, and can thus themselves create a balance. If the body is in the mineral balance, then so are acids and bases in the body. In this optimum condition the immune system is functioning perfectly. This is the basis for fitness, well-being, and vitality.
How is mineral imbalance created?
Mineral imbalance may arise by over-fertilisation of soils as a result of industrial production in agriculture. Mainly supplying activating minerals has an impact on the nutritional content of the later harvest. In our view, this results in an imbalance that can be passed on to humans and animals through their diet.
The result: The acid-base equilibrium gets out of balance. If there is too much acid, the body plunders its mineral storage (e.g. bone, skin, hair, teeth, and joints). A permanent demineralization can also lead to a weakening of the immune system. If you try to counteract demineralisation by taking individual minerals, this can again cause an imbalance.
How to prevent mineral imbalance?
The supply of alkaline minerals on a varied and balanced diet can compensate for anacidification of the body.
Sustainability as a basic philosophy: Reico Vital Systeme
People, animals and the environment are the focus of attention at Reico & Partner Vertriebs GmbH. Our aim is to bring mineral balance to soil, plants, animals and humans using the Reico Vital System and thus create the best possible state for life. The Reico basic philosophy is the natural cycle: healthy soil, healthy plants, healthy animals, healthy people.
This basic philosophy dictates our daily activities and is also the maxim for our product range, which includes dog and cat food, food supplements for humans and animals, and our line of personal care products, Alpenfesch®. It is particularly important to us that the raw materials we use are as far as possible natural and GMO-free.
When expanding our company headquarters in Oberostendorf, Bavaria, too, we incorporated a photovoltaic system into the plans that would cover our own electricity consumption, keeping the natural cycle front of mind. The air-source heat pump that we use to operate our heating is also run completely on its own electricity. And so we furnish our heat and energy requirements predominantly from renewable energies.
As a company involved in the the direct sale of consumer goods, we are able to record a particularly low returns rate, so unnecessary transport of our products can be avoided. For shipping, we rely on our own in-house-produced filling material: we use our own shredding machine to turn used cardboard into filling material quickly, easily and in an environmentally friendly way, for the safe shipping of our products. We prefer shipping with DHL. DHL uses exchange containers to transport the parcels. This saves us stretch film, which would otherwise have to be used to wrap the parcels for dispatch.
Sustainability is also important to us in our corporate management. We focus on family friendliness and an informal working atmosphere. And as far as possible in the individual departments, we also offer flexible working hours and flexitime.
Reico & Plant-for-the-Planet
What is Plant-for-the-Planet?
In 2007, Felix Finkbeiner founded Plant-for-the-Planet as a student initiative. His vision: children could plant trees in all countries of the world in order to absorb CO2. Today, Plant-for-the-Planet is a global movement with the goal that 1000 billion (= 1 trillion) trees are planted.
Why does Reico support Plant-for-the-Planet?
We support Plant-for-the-Planet because we believe that planting trees is a good way to restore balance in the natural cycle, as a way to take action against climate change.
How does Reico support Plant-for-the-Planet?
We donate as many trees as it takes to compensate for our company's CO2 emissions. That is how Plant-for-the-Planet allows us to make Reico climate-neutral.
This is how you can take part
Together with us, all Reico partners and customers can help ensure that even more trees are planted for Reico by Plant-for-the-Planet.
This is how simple it is
Download and install the "Plant-for-the-Planet - Trillion Tree Campaign" app in the Google Play Store or in the App Store
Create a profile
Search for "Reico Vital Systems"
Press the "Gift" button
Choose where to plant the trees
Choose an amount
"Follow" Reico Vital Systems
We can work together for the climate!


We are looking for dedicated employees for our sales team!
BECOME A REICO-PARTNER!
Are you looking for a new self-employment with flexible working hours and attractive income? Do you value high-quality, natural products for soil, plants, animals, and humans?
Then you have come to the right place. We at Reico have specialised in the sale of products, which bring the soil, plants, animals, and humans in their mineral balance. Our products range from food for animals to cosmetics for humans. Since 2003, we rely on direct sales, since we are convinced that personal advice and optimal service are best served on-site with our customers.
Since 2006, we are a member of the Federal Association of Direct Sales. Its guidelines are binding for our actions. Whether an experienced salesperson or a beginner, whether full-time or as a side job - we offer you the opportunity to be your own boss and be successful with us. You will take care of the consultation and the sale, and we deliver the products directly from our headquarters to the customers.
Starting with Reico is quite easy, since you require little start-up capital and no previous knowledge. We will train you optimally. The fixed costs are also low. Our compensation system is based on the principles of network marketing. More detailed information can be found in our multi-level marketing plan.
Have we piqued your curiosity? Then find out preferably still today about your chances at Reico and start right away!
Your Benefits
Frequently tested, simple business model
Fair partnership (we have been a BDD member since 2006)
Fair commission model
Unique in direct sales: no ordinary termination by Reico
Long-term passive income through recurring customer orders
Low starting capital and low fixed costs
Reliable shipping of the goods and billing with the customer directly via Reico
No previous knowledge required, we train you optimally
State-of-the-art training methods and tools
Car bonus in Germany and Austria for special performance
We look forward to hearing from you!